2021 marks the 25th year celebrating National BBQ Week(s), running from the 5th – 18th July. BBQ's are a great way to get together with friends and family over delicious food, especially when you add some cold beverages, good music and sunshine, although this might be a bit optimistic in the UK! Luckily, there are a few inventions that have got you covered when it comes to BBQing in a wet British summer.
Described in US2012247447 A1 is a charcoal grill weather cover which operates by sheltering your barbeque from (inevitable) rainfall. Designed to prevent rain from falling onto the outer surface of the barbeque whilst facilitating the exhaust of combustion gasses out from the weather cover, the invention includes a ventilation port to allow for the continuous flow of oxygen necessary to maintain the charring of the charcoal briquettes during the cooking process, and at least one support member.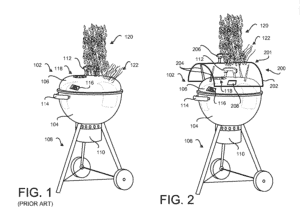 Another invention for BBQing in the British summertime is described in US2003084895 A1, though this is potentially a more transportable option. The patent application describes an umbrella assembly which is suitable for mounting over an outdoor barbeque grill, including gas and charcoal. The assembly includes an umbrella and an arm configured for supporting the umbrella in a position over the grill, as well as wind proofing features for preventing the umbrella from causing the grill to tip over during gusts of wind. This device has specifically been designed for use on smaller, portable grills so your barbeque can be weatherproofed wherever you go!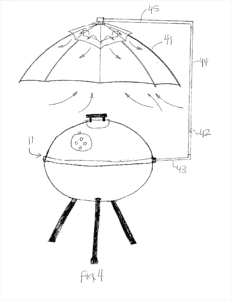 Whether you love BBQing on the beach, in the park or at the side of the road, patent TWM430945 U is the invention for you. Both portable and solar powered this portable solar-energy oven can be carried and is designed to move freely on various terrains and is equipped with an umbrella body to provide shelter come rain or shine. The oven comprises a solar panel on the surface of the umbrella which converts solar energy into electrical energy in order to operate. This not only means that the device is energy saving and environmentally friendly, it also limits the need to carry heavy coals/wood to your destination.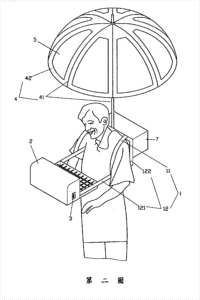 After an exciting week, many football fans may be planning a BBQ to accompany England's appearance in the upcoming Euros final, and what better way to honour the team than with the football themed grill described in USD563149 S1. There may not be any special features to the mechanics or workings of the grill itself, but you cannot deny that the ornamental design seems quite appropriate this week!