Earlier this year the UK government approved cars with Level 2 autonomy for general use outside trials. Level 2 autonomy is still defined as driver assistance, rather than full self-driving (which is level 4+), but it allows the car to steer, accelerate, brake and react to events on the road by itself. Drivers may take their hands off the wheel, but an IR camera checks that the driver is looking at the road.
As the regulatory framework around the world starts to allow greater levels of autonomous control, we can expect to see increased adoption of self-drive features. In this article we take a look at recent patent filing trends in some key areas of technology for self-driving vehicles.
The remarkable surge in innovation within the self-driving industry has been reflected in the introduction of several new International Patent Classification (IPC) codes by the World Intellectual Property Organization (WIPO). These codes, utilized by patent offices worldwide including the European Patent Office (EPO), serve as indicators of the evolving landscape. Classification "Drive control systems specially adapted for autonomous road vehicles" was added in 2020 and relevant applications filed earlier were consolidated into this classification.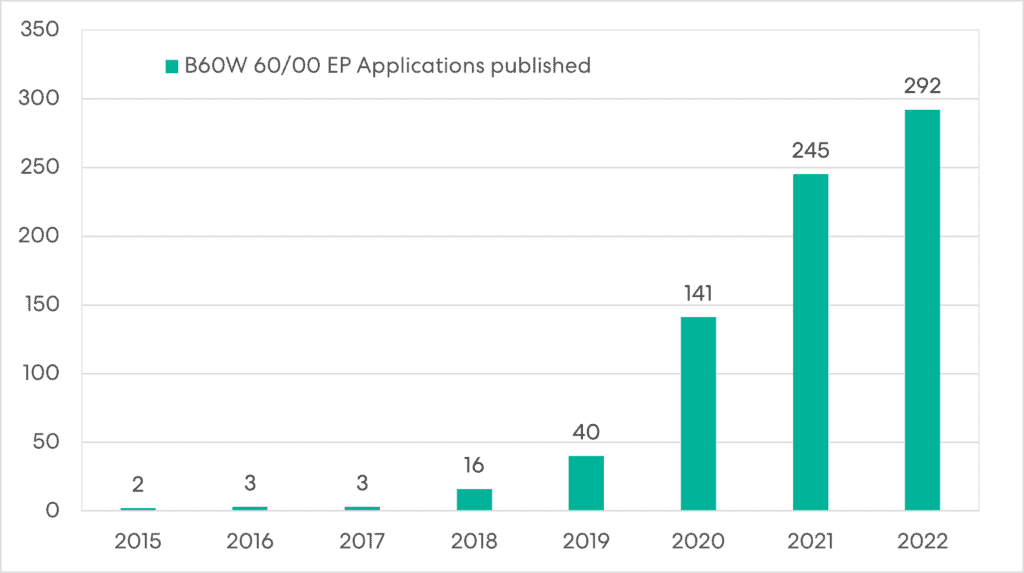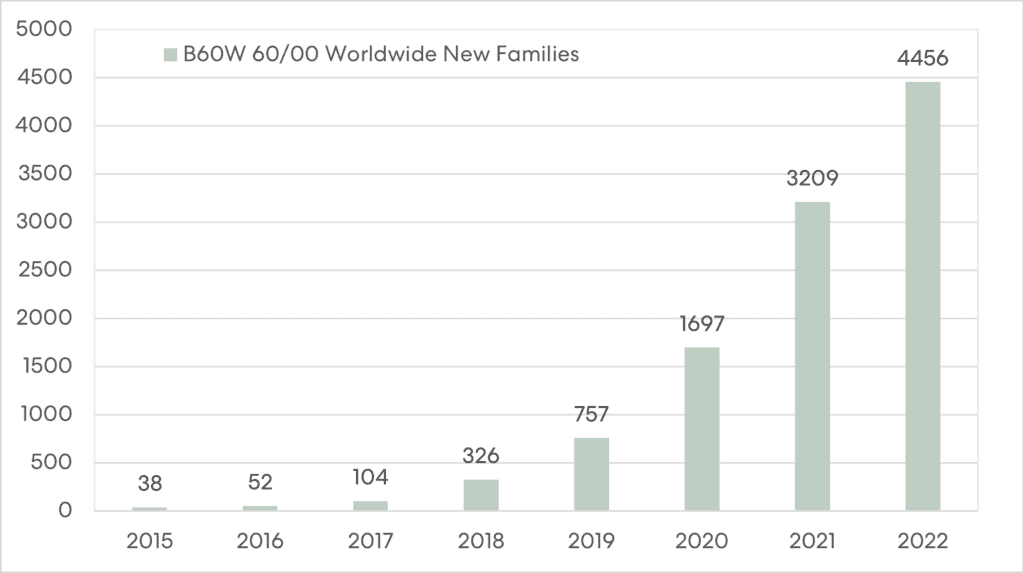 1: Drive control systems specifically adapted for autonomous road vehicles.
At both the EPO and worldwide, there has been a significant increase in filings in this area, with EP and worldwide patent applications more than doubling since this classification was introduced in 2020. At the EPO, the total of 865 published EP applications in this category were filed by around 150 different applicants, with the top twelve applicants accounting for 50% of the applications. Many different companies are now filing applications in this space including companies that specialize in self-driving cars, car manufacturers and component suppliers to car manufacturers.
Self-driving vehicles require highly sensitive and accurate sensors, and innovation in sensor hardware has been reflected in increases in patent filings at the EPO and worldwide. New IPC classification G01S17/937 was added in 2020, which covers lidar for anti-collision for land vehicles. G01S 13/931 was also added in 2020 and covers anti-collision radar for land vehicles.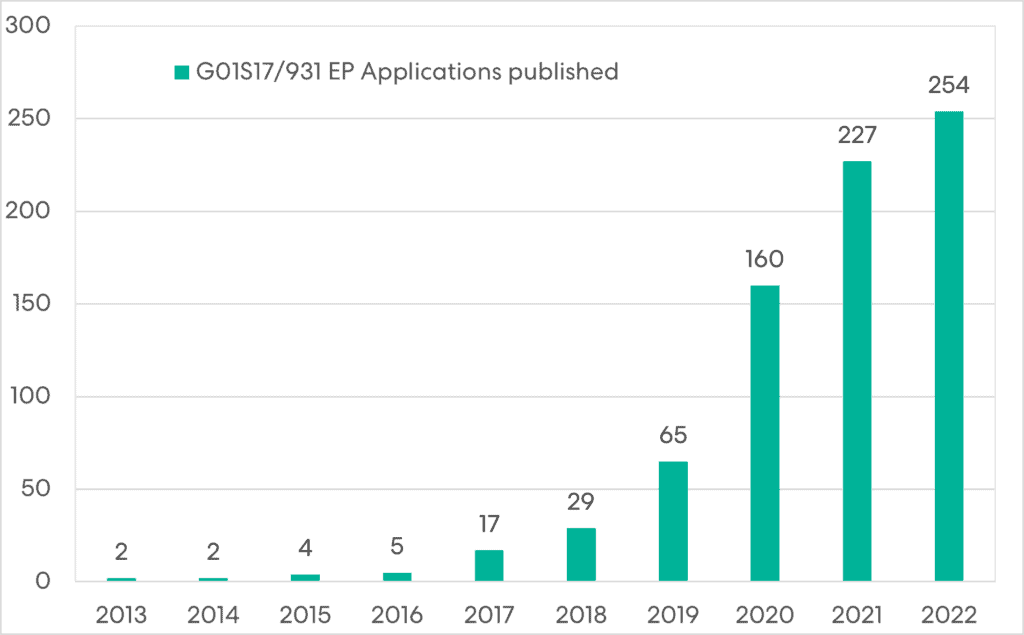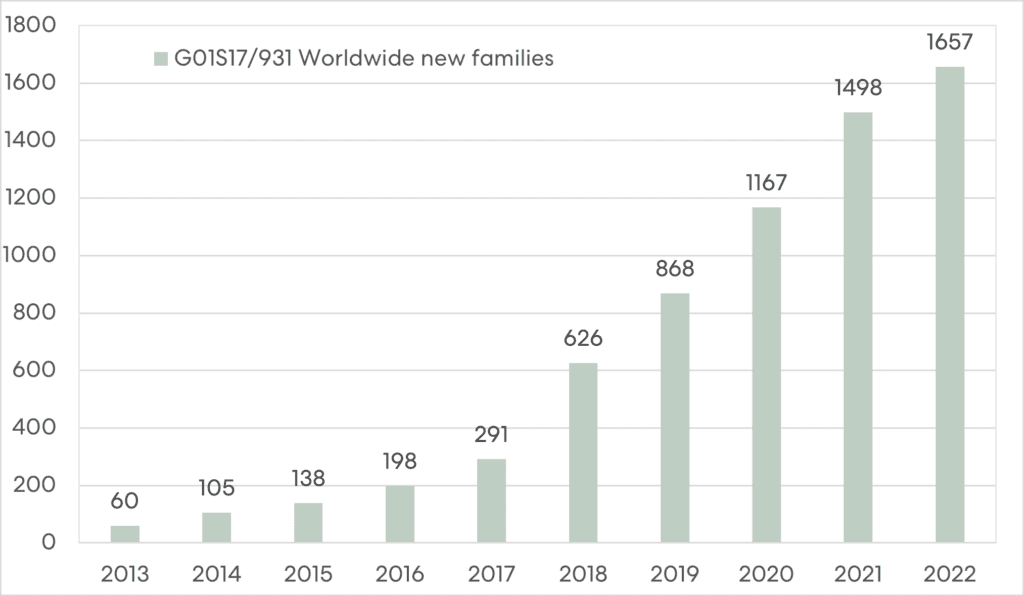 2: Lidar for anti-collision for land vehicles.
G01S17/931 includes a total of 861 published EP applications filed by around 225 different applicants. G01S13/931 includes a total of 1066 published applications filed by around 200 different applicants. Patent filings in these areas have been steadily increasing since introduction of these codes, showing that there are still plenty of new inventions improving the sensor technology enabling self-driving capabilities. While the top applicants in lidar and radar for land vehicle collision prevention include some car manufacturers, component suppliers to car manufacturers make up a higher proportion of top applicants in this area.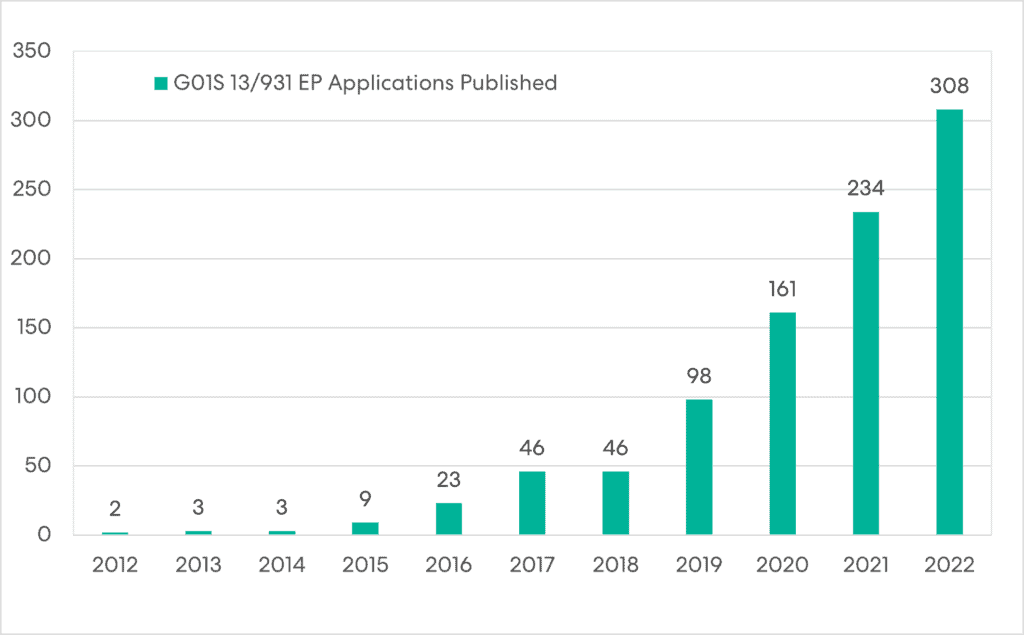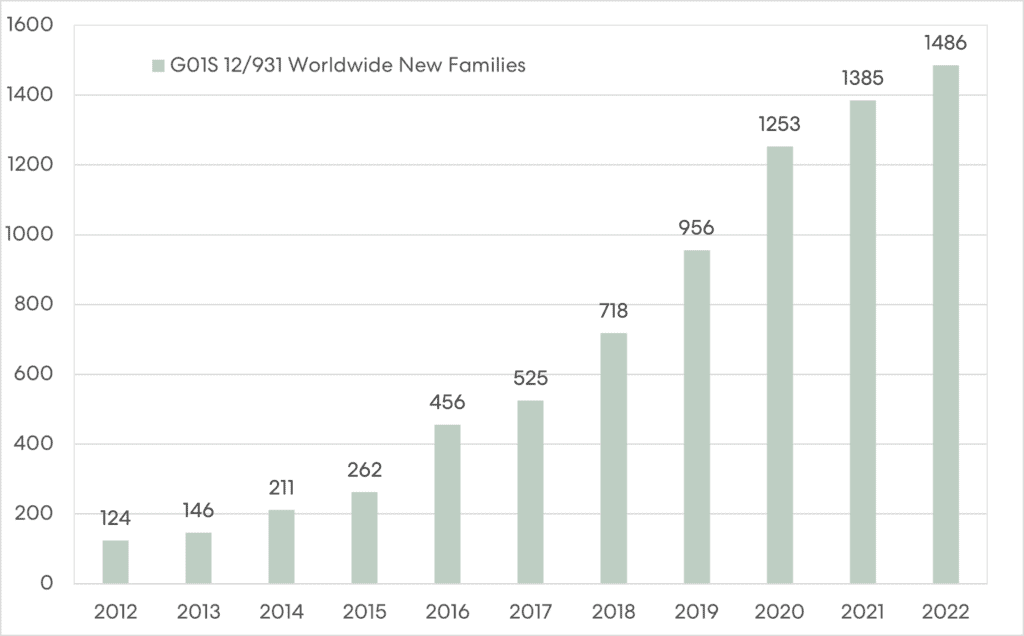 3: Radar for anti-collision for land vehicles.
Another area of technology that is an important part of self-driving cars is image or video recognition. Two new IPC classifications were introduced in 2022 in relation to this particular technology to deal with the growing number of patent applications being filed in this area. G06V 20/56 covers applications relating to image or video recognition exterior to a vehicle using sensors mounted on the vehicle. G06V 20/58 relates to recognition of moving objects or obstacles, e.g. vehicles or pedestrians and recognition of traffic objects e.g. traffic signs, traffic lights or roads.
Although this is a newly introduced code, we can see that many applications are being filed in this area with 3990 published applications worldwide in 2022.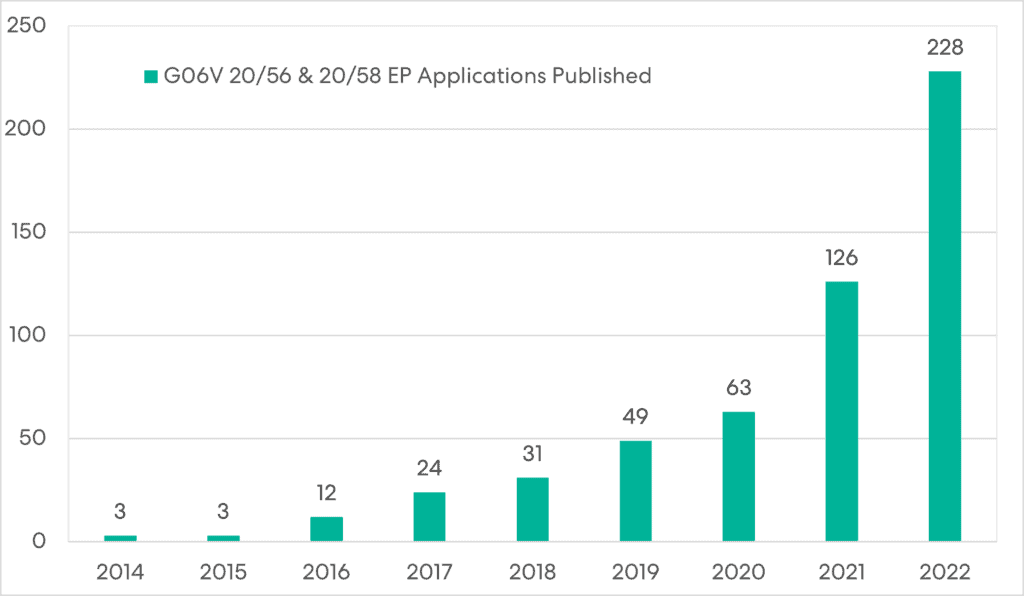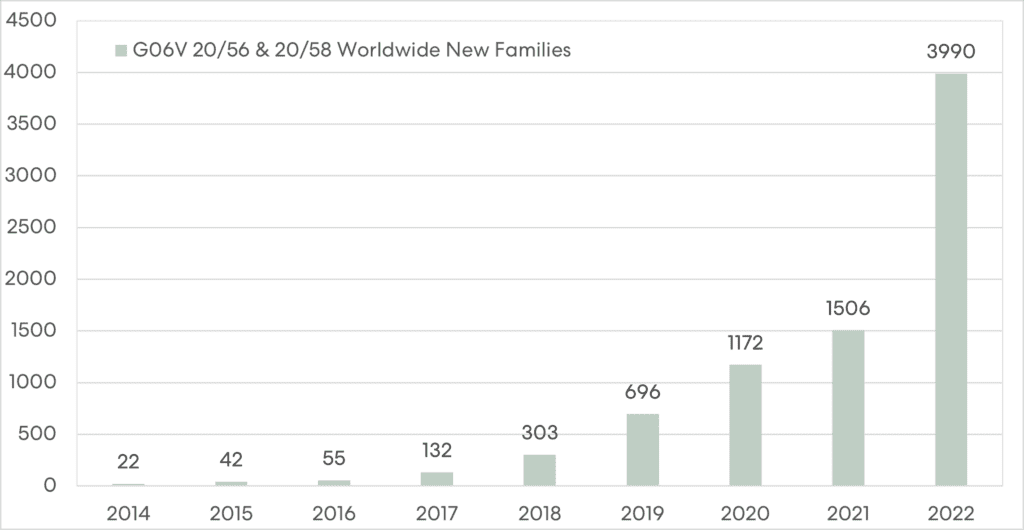 4: Image recognition for vehicles.
Wireless communication technologies can enable vehicles to exchange operating information (e.g. speed, road conditions, traffic, etc.) and potentially coordinate actions, such as emergency braking. New IPC classifications relating to vehicle connectivity were introduced in 2018 within the "wireless communication networks" category including categories covering V2C (vehicle-to-cloud), V2H (vehicle-to-home) and V2P (vehicle-to-pedestrians). V2V (vehicle-to-vehicle communication) is classified as IPC H04W 4/46. Another related classification is IPC H04W 4/44 which covers communication between vehicles and infrastructures (e.g. vehicle-to-cloud, V2C, or vehicle-to-home, V2H). Like with the other technologies above, there has been an increase in applications in this category, although the worldwide data suggests that the number of applications has peaked, at least for now.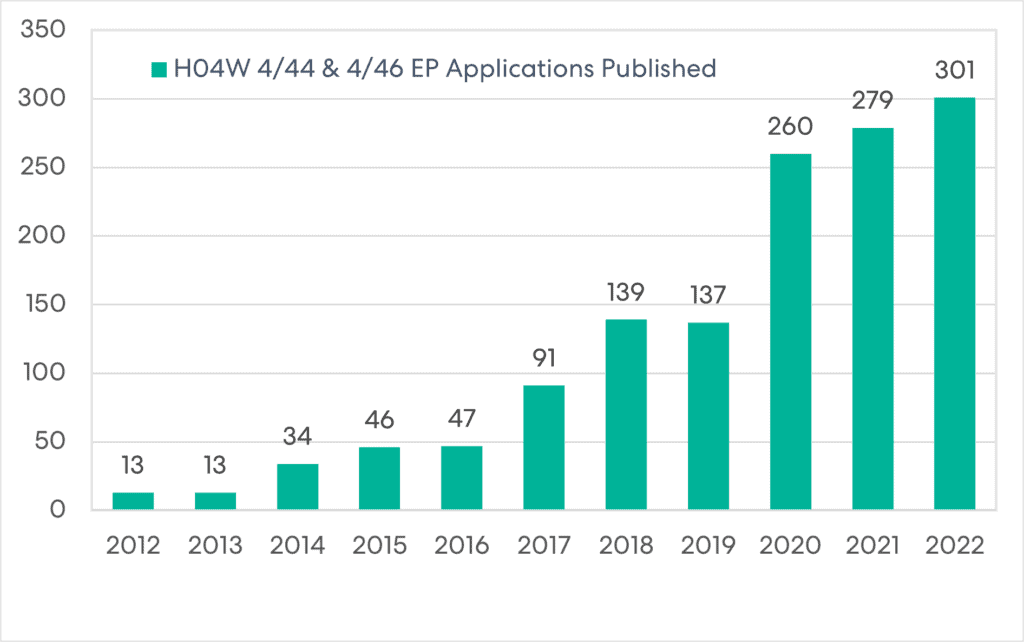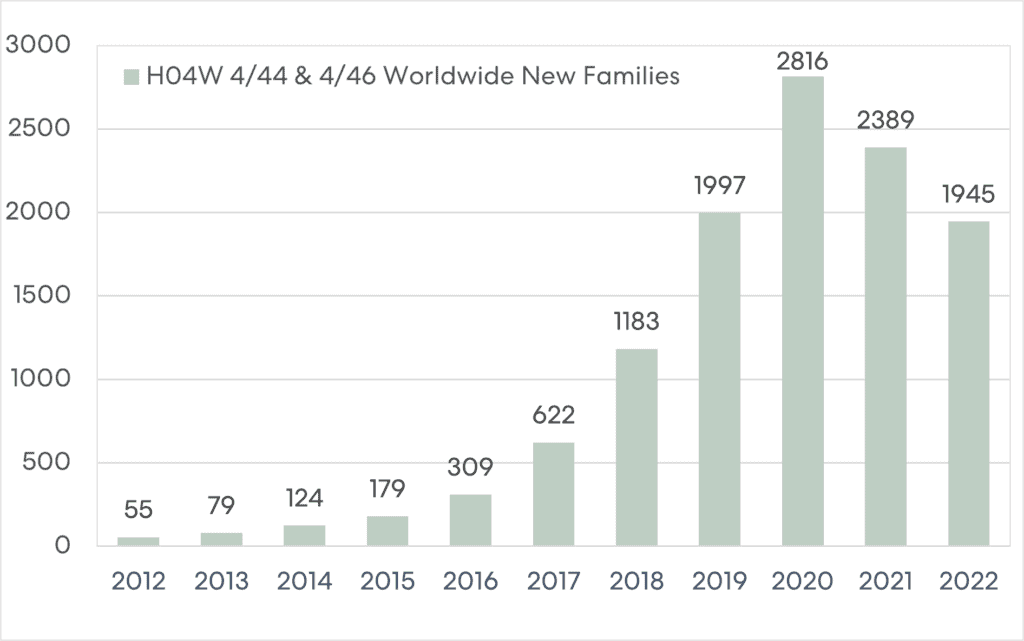 5: V2X communication.
In the area of connectivity of vehicles, the top ten EP filers are mostly telecoms companies (making up 7 of the top ten applicants) which account for half of the total filings in this category. The top 50 applicants also include car manufacturers and other electronics companies.
In conclusion, the advancement of autonomous vehicle technology has sparked a surge in patent filings across various sectors. With the UK government approving Level 2 autonomy for general use outside trials, the regulatory framework is gradually accommodating higher levels of autonomous control. Notably, the introduction of new IPC codes by WIPO indicates the rapid innovation in the self-driving space. Drive control systems for autonomous road vehicles, lidar and radar for collision prevention, image recognition by vehicle-mounted sensors and connectivity are among the key areas witnessing significant patent activity. Car manufacturers and suppliers, telecoms companies and tech firms are prominent contributors to the patent landscape. As the technology evolves, these trends shed light on the ongoing development of self-driving vehicles and the collaborative efforts across various industries to shape the future of transportation.
This is for general information only and does not constitute legal advice. Should you require advice on this or any other topic then please contact hlk@hlk-ip.com or your usual HLK advisor.