Like most people I know, I've found myself cooped up at home a lot more than usual, and in doing so, I've come to realise that most things in it are pretty boring. Everyone can picture an off-the-shelf 2- or 4-slot toaster, a dining table with 4 legs and a collection of round saucepans. I can't help thinking that someone out there must have thought of a way to make your everyday, generic homeware a little more interesting, if not to use then certainly to appreciate. As it happens, patents are often filed for quirky or unusual devices you might not have anticipated that demonstrate how something might be modified to be a little more exciting. Perhaps you can picture one of the following items sitting on your own countertop?
Take a regular Sunday morning for example. Feeling hungry, you make your way to the kitchen and cook up a classic fried breakfast. Instead of reaching for your non-stick frying pan and sparking up the hob, imagine you had access to this: a frying pan cooking bench. As disclosed in patent CN107616721A, the bench comprises a base, a supporting pillar, several connecting rods and frying pans, where the pillar is rotatably arranged on the base and where the connecting rods are connected to the upper end of the supporting pillar. The frying pans are connected to the supporting rods, and some pans even have a lid. With the power cables being fed up through the base, pillar, and rods, you can heat up the surrounding pans and fry a multitude of things, using the control and adjustment switches placed on the base to ensure the items are cooked to your liking. You can watch your sausages, eggs and bacon rashers fry nicely, spinning the pans around for easier reach, where each item is contained in its own pan. Alternatively, you could allocate a few pans to another Sunday morning chef and see whose breakfast is best.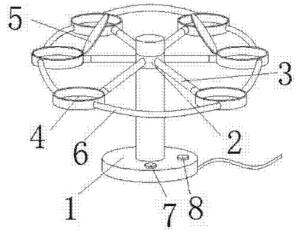 With your main breakfast items cooking, lets turn the attention to toast and baked beans. While the process of putting some bread in the toaster and microwaving a can of beans is by no means a strenuous or particularly time-consuming process, imagine the extra worktop space if both were somehow conjoined. How about: a microwave oven having a toaster built in. Disclosed in the patent EP1213948A2 is a microwave oven having an attached toaster, in which slices of bread can be toasted. It comprises a heating chamber in which food is heated, a toaster casing having input ports formed at a front surface of the toaster,  a toaster section having at least a heater for heating bread, and an instrument compartment containing all the necessary electric components. Other embodiments include a tray for seating bread on, allowing easy toast extraction, as well as a drawer to catch all the crumbs. As an additional, optional minigame, you can fine-tune the power settings so both finish cooking at the same time (not actually patented).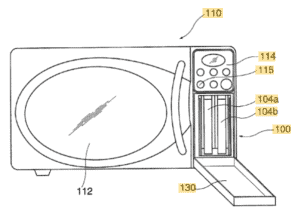 After everything's finished cooking, and you're sat at your kitchen table with your freshly prepared breakfast, you start to wonder what you could entertain yourself with while eating. Most people would rarely think to glance towards the refrigerator, but if your fridge is anything like that of patent KR20050075781A, you might be surprised. Not only sporting a freezer compartment in addition to your conventional refrigeration compartment, you have your very own television built right into the door. With a mounting groove formed in either door, a television fixedly installed in the mounting groove as well as a fixing means to fix the television in the mounting groove, it allows the TV to be watched from the comfort of your own kitchen. Just try not get any crumbs stuck in the remote.