As we celebrate Halloween today, we thought it was fitting to look at just a few of the quirky Halloween ideas for which patent and design applications have been filed.
One inventor sought to combine two of the biggest holidays together, to create JP2017144100 (A), an 'ornament kit for Christmas and Halloween'. With a traditional Christmas tree and lighting as well as a detachable jack-o'-lantern wearing a witch's hat and jacket that covers the sides of the tree, this patent application effectively caters to both holidays. Christmas can be an expensive holiday, but this invention saves money by providing a multi-functional tree. If, like a lot of people, you start organising Christmas early, this may be for you.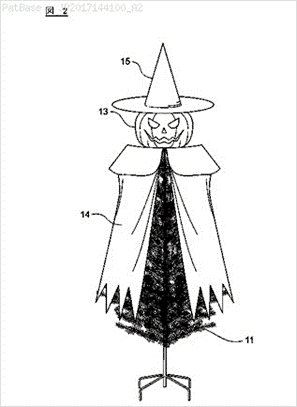 Sticking with tree decorating, US design patent USD430817S provides a tree suitable only for Halloween. It may not be as cost-effective as the idea above, but it will definitely get you into the Halloween spirit with a variation of ornaments, from cobwebs to spiders.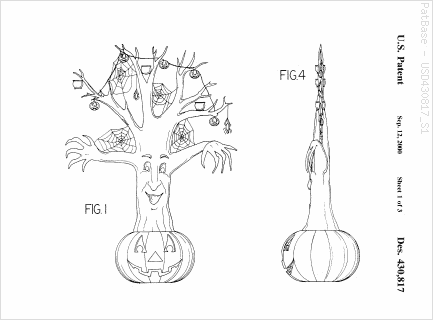 As the traditional symbol of Halloween, the pumpkin is the focus of many Halloween-themed patent and design applications. The focus of the next patent application (US4296659A) in our trove is sure to make pumpkin carving quicker and more hassle-free. With this device there is no need to spend hours agonising over creating the perfect jack-o-lantern, a few simple cutters will do the job.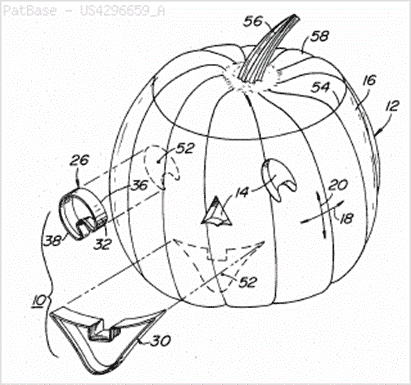 Once you have perfected your carved pumpkin, where do you display it? In the porch, outside by the door or in the window? How about hanging it up? The inventor behind US patent application US2009121108A created a device that suspends the jack-o-lantern in the air, to ensure that your carving masterpiece is on display for everyone to see.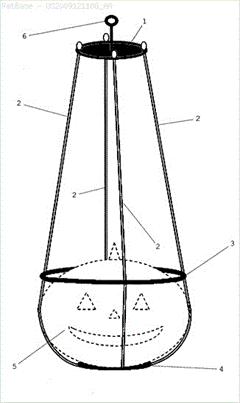 Lastly, one inventor saw the need for a 'Halloween portable container' with a variety of covers e.g. a pumpkin (as shown in the image below), a vampire, a werewolf and even a ghost. US patent design US2008284138A allows for easy mobility during the all-important trick-or–treating. Too many sweets will never be an issue with this device.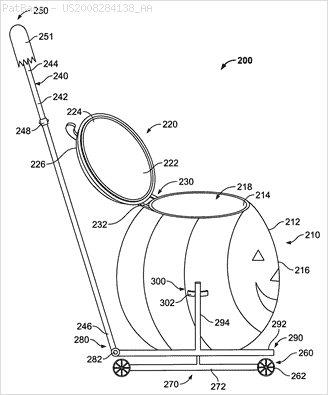 Hopefully that has given you some ideas and inspiration to get into the Halloween spirit.
Happy Halloween!