Interbrand has today released its Best Global Brands 2022 report at Web Summit 2022. As posted by PR Newswire UK, the key findings are:
Top 10
With an 18% increase in brand value, Apple (US$482,215m) has remained at the top of the table. It is followed by Microsoft (US$278,288m) and then Amazon (US$274,819m). Google (US$251,751m) has held onto its number four spot.
The remainder of the top 10 companies are: Samsung #5 (US$87,689m), Toyota #6 (US$59,757m), Coca-Cola #7 (US$57,535m), Mercedes-Benz #8 (US$56,103m), Disney #9 (US$50,325m) and Nike #10 (US$50,289m) for the first time.
The top 10 brands makeup 53% of the total value of the entire table.
Table Value
The average brand value has reached over US$3 trillion for the first time ever – a 16% rise from 2021 (US$2,667,524m).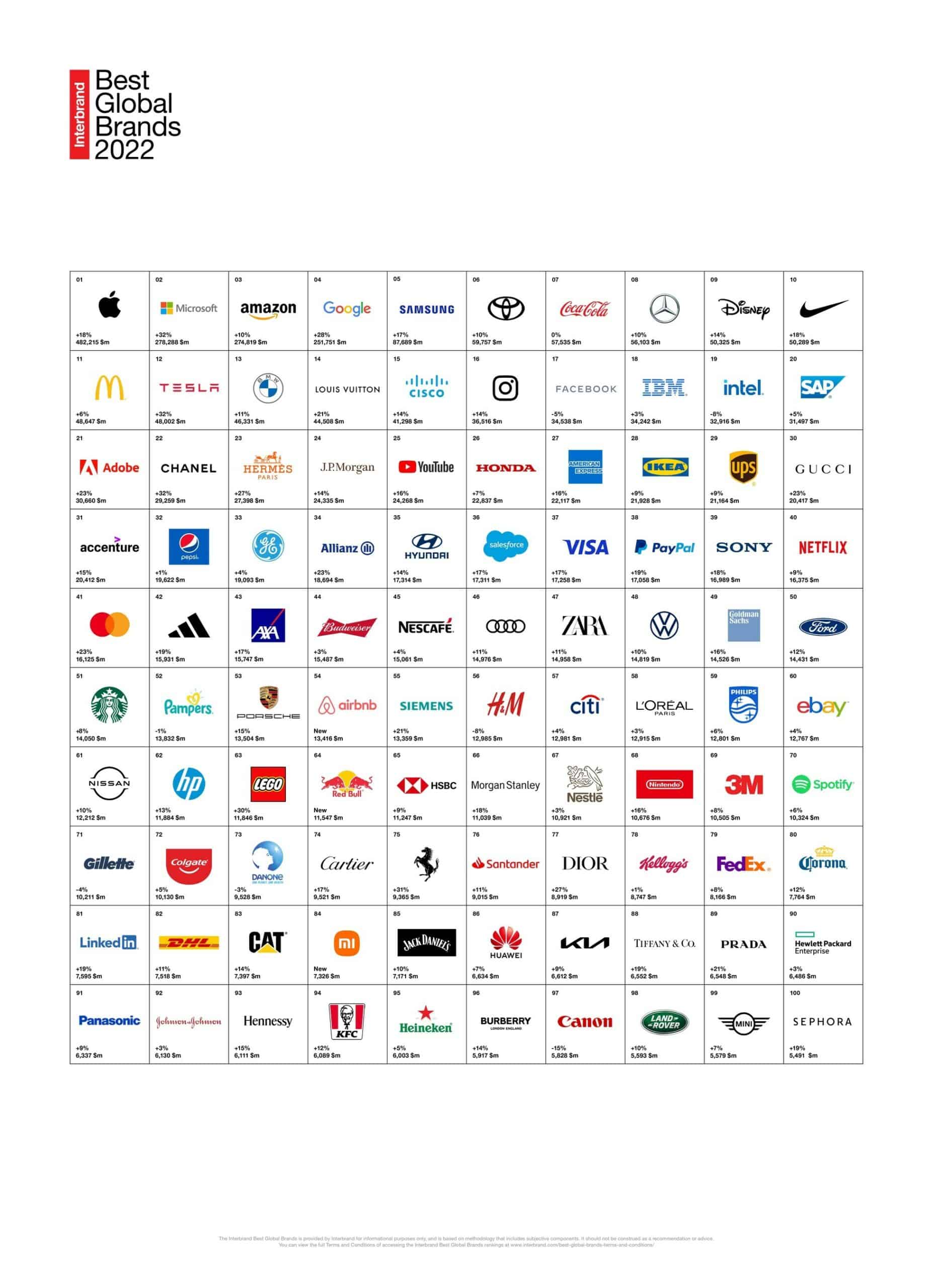 A 16% increase in the table's overall brand value demonstrates the growing contribution a company's brand has in driving its economic success. While financial markets have shown significant swings over the last few years, the value of the world's strongest brands have steadily increased driving customer choice, loyalty and margins.
Key Learnings
The fastest risers in 2022 (in terms of brand value % change, year-on-year) significantly outperformed the fastest falling brands on three Brand Strength factors – Direction, Agility and Participation.
Direction – these brands set a clear direction, ensuring that the entire organization knows where they are going, and are working towards the same ambition.
Agility – having done this, they move fast, bringing new products and services to market and, where necessary, pivoting to address changing customer needs.
Participation – ultimately, bringing people on a journey with them and making them part of the movement to create an engaging brand world.
Chris Morris, Partner, Trade Marks team, comments:
"It's fascinating to see the top 5 big tech brands in particular jostling for supremacy. As consumers, we engage with these ubiquitous brands on a daily basis, almost subconsciously. It's impressive that, in turbulent times they have all achieved double digit growth, illustrating the vital importance of a trusted brand to the consumer deciding where to spend their cash".
This is for general information only and does not constitute legal advice. Should you require advice on this or any other topic then please contact hlk@hlk-ip.com or your usual HLK advisor.