Every year, at the holidays, I'm tasked with fixing a string of fairy lights across the top of the garage door – my contribution to making the house look a little more festive. This year, while balancing precariously on the stepladder, I noticed that there seemed to be a number of new lights and sparkly ornaments set up in the neighbours' windows and drives, these new lights boasting bigger and brighter bulbs than those of previous years. While my fairy lights have various blinking modes, they now seem rather dated in comparison to next doors' latest and greatest. Luckily, in the world of intellectual property, I need not look very far to discover something which could help me level up my festive décor.
Chinese utility model CN204541681U provides a magnetically suspended Santa Claus arrangement (complete with sleigh and reindeer) which levitates above the house.
The device comprises a suspension body (shown below as Santa and his reindeer gliding over some clouds) and a base portion for installation in or on the roof of your home. The suspension body has a groove at the bottom edge which houses a permanent magnet, and the base portion provides an electromagnet configured, when switched on, to repel the permanent magnet and suspend the suspension body in mid-air.
Certainly a step up from the two dozen yellow LEDs currently dangling from my gutter.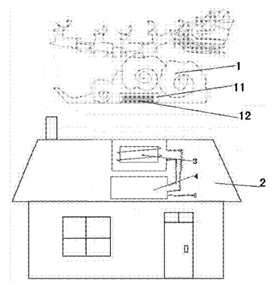 Holiday parties of late have been few and far between due to the restrictions imposed during the pandemic, so what better way to welcome friends and family back after a two-year Holiday party hiatus than with a Santa Claus that automatically greets (or rejects) them at the door.
Chinese patent CN102114348A relates to a method of using a Santa Claus toy with an automatic swing device. The swing device causes Santa to perform welcoming or rejecting actions with his arms to beckon in, or turn away, guests walking up the garden path. An in-built control system is connected to the swing device to control its action state automatically, and Santa can even speak a pre-recorded message set up by the host. St Nick can even have sensors in his eyes to detect the action of a guest, and can be configured, based on the guest's action, to perform a corresponding welcoming or rejecting action.
Be sure to greet Santa with a smile if you see him standing on the porch – he might not let you in otherwise.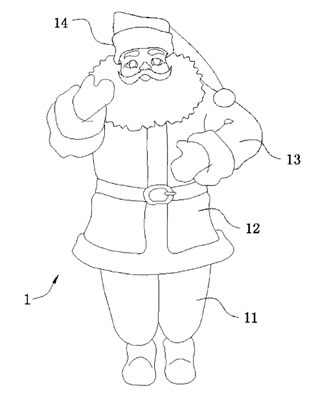 When sitting down to tuck into your festive lunch, you can be pretty sure that your cracker will pop open to reveal a colourful paper hat and a little plastic trinket. While the dancing fish and pop-up frog are among my personal favourites, no-one wants to end up with the plastic paper clip. If only there was a way to make sure you get the cracker containing one of your favourite prizes, or maybe just the one with the best joke.
Cue US10039994B2 – a cracker with a viewing window. This cracker boasts an opaque central body including a window frame connected to a transparent windowpane. This window exposes the contents of the central body's internal chamber, offering you a preview of what toy you can expect to fall out alongside your festive headgear and charades phrase.
Unfortunately, the viewing window has no effect on whether you'll end up with the prize or not, so there's still the risk of being left with nothing, or being handed the paper clip out of sympathy.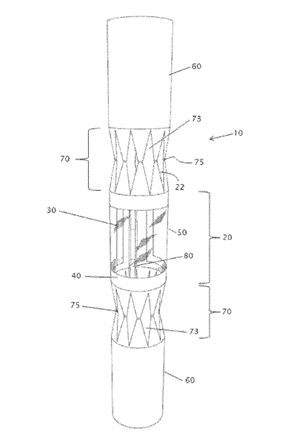 However you're celebrating this year, HLK wishes you a Happy Holiday and a very Happy New Year! Cheers!