Cycling technology has advanced a long way over the past 200 years. Since the advent of Baron Karl von Drais' uncomfortable-looking machines of 1817, bicycles have seen huge improvements in design, the materials used, and even the methods of manufacture. Collectively, these improvements have led to the most streamlined and efficient bicycles ever seen.
With the 106th edition of the Tour de France currently underway, Britain's hopes of victory lie with last year's winner, Geraint Thomas. We stop to ask ourselves: could Geraint benefit from the marginal gains of any of the weird and wonderful cycling patents out there?
The early stages of this year's Tour are being fought out in the north of the country, over a mix of rolling hills and flats – perfect terrain to catch some tailwinds. US patent application US4557495 describes a sail rig slapped onto the side of a bicycle, which is guaranteed to assist.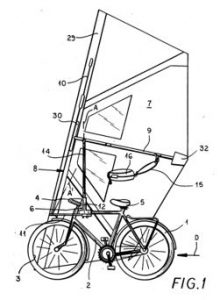 Fig. 1 US4557495 "Sail fig for bicycle"
After surviving a minor scare back in stage 1 of the Tour, we're going to be sure to advise Geraint to strap in using German utility model DE29806407 and its seat belt device for two wheelers.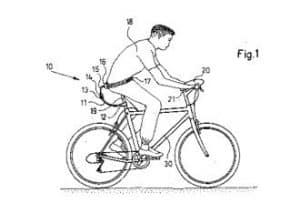 Fig. 2 DE29806407U1 "Seat belt device for two-wheelers"
Up in the mountain stages, the weather can change within minutes and without any notice. The pros may well have a lightweight rain jacket waiting for them in the team car, but we'd recommend for Geraint to brave the elements with more style. Dating all the way back to 1893, US patent application US497068 outlines an "umbrella attachment for cycles" complete with a storage unit for when the weather brightens up a bit.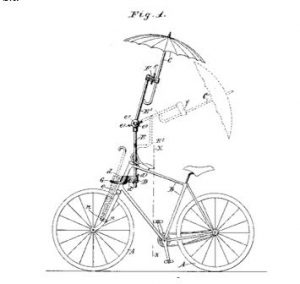 Fig. 3 US497068 "Umbrella attachment for cycles"
The gruelling climb of the 2115 metre Col du Tourmalet closes stage 14 of this year's Tour. I get out of breath on my cycle into the office, so Robert C. Barrett's US patent application US4178008 of 1977 for a "side by side bicycle" is particularly appealing. Perhaps Geraint could get some assistance on the way up?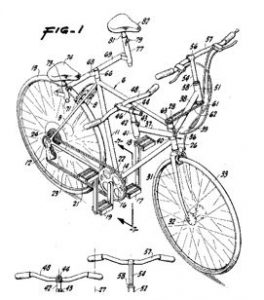 Fig.4 US4178008 "Side by side bicycle"
US patent US6805657 for a "body-connected bike" dispenses with all unnecessary weight and all unnecessary mechanical parts. While we're not sure that the International Cycling Union would consider this a bicycle as such, but it could be fun to watch!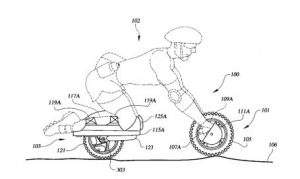 Fig.4 US6805657 "Body-connected bike"
On second thoughts, perhaps it would be safer if Geraint sticks to the knowledge of Team Ineos!