In honour of World Photography Day, we consider how copyright affects photography and look at some famous copyright disputes.
Copyright is a form of intellectual property right which subsists in original creative work, including artistic work. Artistic work is defined in the Copyright, Designs and Patents Act 1988 to mean:
a) a graphic work, a subset of which includes photographs, irrespective of artistic quality;
b) works of architecture being a building or a model for a building and;
c) works of artistic craftsmanship.
For photographs, the photographer is the copyright owner subject to certain exceptions (e.g. if employed to take photography, the photograph is owned by the employer unless there is an agreement to the contrary).
The copyright owner has the exclusive right to copy or adapt his or her work both during their lifetime and for a time period after their death. While this varies from country to country, the time period in the UK is 70 years.
Monkey Selfie
In 2011, a wild macaque reached international fame for taking a 'selfie' using a camera owned by wildlife photographer David Slater. The viral photograph was uploaded onto Wikipedia in the public domain, and this triggered a copyright dispute [1].
Who was the photographer?
David Slater argued that he himself had a claim to the copyright, since he had set-up the camera which led to the photograph coming into existence.
The United States Copyright Office had a different view. They deemed that photographer was a non-human animal, and 'only works by a human can be copyrighted under United States Law'. The case was never brought in the British courts.
Obama Hope Poster
Another interesting copyright dispute involves the iconic 'HOPE' poster of President Obama used during his 2008 presidential election campaign [2]. The poster, designed by street-artist Shephard Fairey, featured a stencilled coloured portrait of Obama with the word 'HOPE' underneath. Yet, it was found that the poster was adapted from an original photograph taken in 2006 by the Associated Press. Fairey had not obtained consent for use of the photograph, and had also made commercial gains from the work by the selling of HOPE-related merchandise.
Following the campaign, the Associated Press sought compensation. The case was settled, with the financial terms remaining confidential.
Social media sharing
Infringement of copyright with regards to photography is so much more prevalent in the age of the internet and social media. There is a common misconception that anything posted on social media is automatically devoid of copyright and 'in the public domain'. Another common myth is that only photographs marked as copyrighted (e.g. ©) are subject to copyright [3]. However, copyright is an unregistered right which automatically subsists.
In other words, just because photographs have been uploaded to websites such as Twitter, this does not mean that these photographs can be copied for commercial use.
In 2010, for example, photographer Daniel Morel was awarded a sum of $1.2 million after Getty Images reproduced photographs he had uploaded onto his Twitter account [4].
Photography of other artistic works, and freedom (or lack thereof) of panorama
Copying copyrighted work includes reproducing the work in any material form. Taking a photo of other copyrighted works, such as a painting in an art gallery, may therefore amount to copyright infringement [5].
Architecture and sculpture are also artistic works. Yet, in the UK and a number of other countries, there is a 'freedom of panorama' provision. This permits photography of architecture and sculptures provided they are located in a public space [6][7].
Such provisions do not apply in other countries around the world. In fact, in Romania, heirs of the late architect Anca Petrescu recently brought proceedings against the Inferior Chamber of the Romanian Parliament for selling souvenirs and photos of the Palace of Romanian Parliament [6][8].
In Belgium, freedom of panorama was only recently introduced in 2016. Prior to this date, there were restrictions on taking photographs of famous landmarks such as the 'Atomium.' Photographs of the sculpture were previously censored on Wikipedia [6].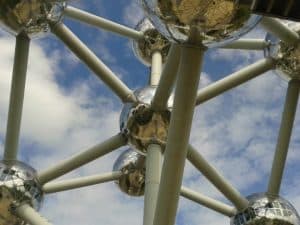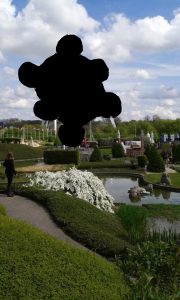 Top – Photos of the Atomium can now be readily shared, like this photo I took in Brussels. Bottom – Prior to 2016, photographs of the Atomium could not be distributed. Censored photographs, like demonstrated above, were therefore used on websites such as Wikipedia.
Clearly, there are many things to think about when copying or reproducing a photograph. Copyright issues can even come into play when taking a photograph of other copyrighted works. This shouldn't put you off photograph however, as World Photography Day is a day for celebration after all.
[1] https://www.wipo.int/wipo_magazine/en/2018/01/article_0007.html
[2] https://www.nytimes.com/2011/01/13/arts/design/13fairey.html
[3] https://www.copyrightservice.co.uk/copyright/copyright_myths
[4] https://www.reuters.com/article/us-media-copyright-twitter/photographer-wins-1-2-million-from-companies-that-took-pictures-off-twitter-idUSBRE9AL16F20131122
[5] https://assets.publishing.service.gov.uk/government/uploads/system/uploads/attachment_data/file/481194/c-notice-201401.pdf
[6] https://en.wikipedia.org/wiki/Freedom_of_panorama
[7] http://www.legislation.gov.uk/ukpga/1988/48/section/62
[8] https://stirileprotv.ro/stiri/actualitate/familia-arhitectei-casei-poporului-vrea-2-din-castigurile-pe-care-camera-deputatilor-le-incaseaza.html