The team at Haseltine Lake Kempner were saddened to hear last week of the passing of the great Robert W. Gore, acclaimed scientist, inventor, and businessman. While few may immediately recognise the name Robert W. Gore, all will be familiar with his most famous invention, "Gore-Tex®", which has no doubt earned its place as a household name over the last three decades.
Gore was inducted into the US National Inventors Hall of Fame in 2006, joining the ranks of the world's most important inventors, many of whom, like Gore, made their greatest discovery somewhat by chance. Indeed, much like Newton with his apple or Fleming with his petri dish, it was a moment of unusual abandon that led Gore to the finding that, when pulled with speed and force, solid PTFE would stretch some 800% and form a microporous structure containing around 70% air. Gore had been working with PTFE for some time but had, until that moment, failed to consider the possibility that anything other than slowly stretching the heated material would bear any useable result. In a moment of frustration, Gore suddenly pulled a ribbon on PTFE that he was holding with great force and made a discovery that would have worldwide implications.
Gore and his team at W. L. Gore and Associates (a family business established by Robert W. Gore's father Wilbert Lee in 1958), immediately recognised the significance of Robert's discovery and filed for a patent shortly thereafter. While it was initially intended as an insulator for electrical wire, the potential uses of ePTFE were far broader. The first patent, granted in 1976, was directed to the general production comprising expanding highly crystalline PTFE by stretching an unsintered article at a rate exceeding about 10% per second while maintaining the article at a temperature between about 35 °C and the crystalline melt point of PTFE (US3953566). However, later patents were directed to the porous material itself, as well as specific forms, such as "shaped article[s]" and "impregnated structure[s]" formed from ePTFE (US4187390) and "a flexible layered article suitable for use in waterproof garments" (US4194041). Thereafter, Gore filed numerous other patents covering various other forms of ePTFE, and began pushing his product on the open market.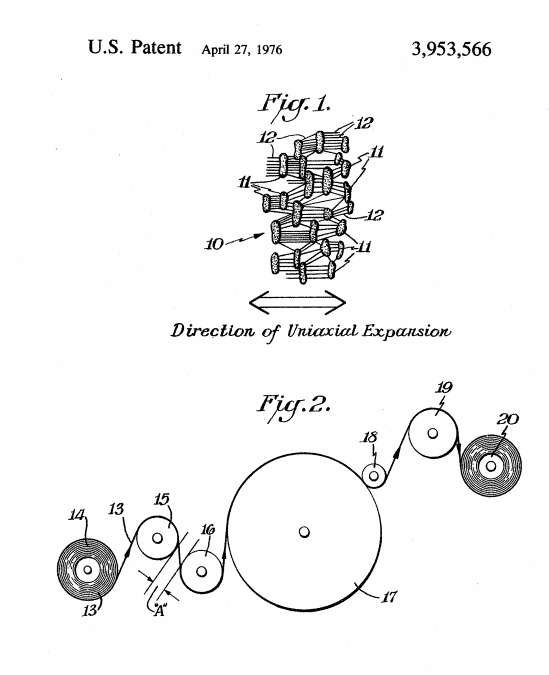 Image 1: Drawings from Gore's first patent, granted in 1976
Bolstered in part by a series of aggressive and highly-effective marketing campaigns in magazines and newspapers across the US, Gore's new invention quickly caught the attention of the popular media. By the 1990s, the Gore-Tex® brand had become so engrained in popular culture that it was featured in an episode of American sitcom Seinfeld. In the same decade, Lauryn Hill of the Fugees rapped in hit song The Score "I must confess my destiny's manifest to some Gore-Tex and sweats" and artist Big L referred to "nautica sweats with the fresh Gore-Tex" in his song Fall Back. From there, Gore-Tex® blew up the New York underground music scene, with one particularly prominent underground artist, Mitchell Manzanilla, adopting Goretex as his stage name. Manzanilla would go on to form highly successful hip-hop group Non Phixion, through which the Gore-Tex® brand has retained a strong link to the hip-hop scene.
Importantly, Gore's success did not only extend to the clothing industry, but also to the medical profession, and particularly to the field of vascular surgery. Gore Medical today produce a wide range of crucial products, from bandages and patches for soft tissue repair to vascular grafts, endovascular and interventional devices and surgical meshes. Their products are successfully used to treat patients with extremely severe conditions, including cardiovascular disease, stroke, and kidney failure, a fact of which Robert W. Gore was especially proud. In his 1996 presidential inauguration speech, Gore laid out his hope for the future of the company, noting that he "plan[s] to leave a legacy to society and to future generations: infants with surgically reconstructed hearts that live because of our medical products; governments of free societies that are better able to protect themselves because of defense products; communities with cleaner and healthier environments because of our filtration and sealant products; And yes, people that just have more fun in the outdoors because of our GORE-TEX® Outerwear.[i]
However, Gore's journey through the complex world of patenting was not without controversy and Gore v. Garlock has become a much-cited precedent in subsequent patent infringement cases. Unlike Gore, John W. Cropper of Garlock Inc. elected not to patent his version of ePTFE, but rather to keep it as a closely-guarded trade secret. In a major blow to Robert and to the wider Gore organisation, an initial hearing involving "over two years of discovery, five weeks of trial, the testimony of 35 witnesses… and over 300 exhibits" deemed several of Gore's patents invalid. However, that decision was overturned on appeal and eventually Gore pushed Garlock Inc. and other competitors from the market through a series of lawsuits. Thereafter, the company patented widely and thoroughly, retaining a strong hold over the ePTFE industry and having incredible impact on the world as we know it today. [ii]
Robert W. Gore died on Thursday 17 September 2020, aged 83, after a long illness. He is survived by his wife, children, grandchildren, and great grandchildren. Our thoughts are with Robert's family at this time as we remember one of the greatest inventors of the century.
[i] https://www.gore.com/news-events/press-release/robert-gore-passing
[ii] See https://law.resource.org/pub/us/case/reporter/F2/721/721.F2d.1540.83-614.83-613.html and https://law.resource.org/pub/us/case/reporter/F2/842/842.F2d.1275.87-1341.87-1296.html